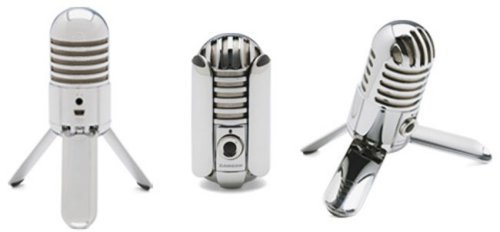 Samson has a new mic that looks all cool and shiny, called the Meteor Mic. It looks pretty retro and the stand adjusts and can fold up or be adjusted into different positions to hold the mic exactly how you want it. The Meteor comes with the USB cable and a soft carry pouch.
You won't need to install any drivers to use it and it has a headphone jack so you can monitor what is being recorded. Other features include a 25mm diaphragm and a cardioid pickup pattern. The frequency response is 20Hz to 20kHz and it records in CD quality.

It will arrive on April 15 for $99.
Meteor Mic, Samson