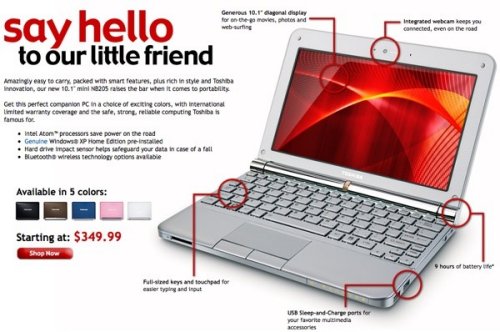 We told you about this one earlier this month. It's Toshiba's first netbook. And it looks like it's ready to take its rightful place in your hands. Toshiba's new NB205 netbook does a good job of standing out from the crowd with nice specs at the right price.
You have a few options to consider, There's a low end black model with a standard keyboard and cheaper materials for $349. Then there's the $399 model available in four different colors, which also features a higher quality chassis and a chiclet-style keyboard. Each sports an Atom N280 processor, 1GB of RAM, a 160GB hard drive, a 10.1-inch LED-backlit display, and a standard six-cell battery that promises nine hours of use.

Sounds good to us for the price.
available, NB205 netbook, order, Toshiba