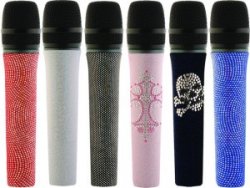 How many gadgets have we seen fall to the mighty Swarovski crystal? Too many. Here's another to lament or rejoice about depending on your point of view. Perfect for the aspiring glam-rock star, (Or any 13 year old girl) these come in several different variations and allow for plenty of customization. In fact, it might help to become a successful rock star before you purchase these expensive microphones.
The Sennheiser mics come in one-color, two-color, and multi-color versions. With the two-color and multi-color you get to choose the colors and specify the design. The multi-color design can hold up to 2,300 shiny crystals. There's even a 6 month warranty on the crystals (Because they know they are going to fall off like the cheap crap they are) and it could take 1-4 weeks to actually place the crystals on the mic.

The multi-color is $999, the two-colors is $799 and just a single color is $699. They are also offering skins to go on the mic for $49.95 per skin, if you don't want to spend that kind of money.
crystals, customized, mics, Sennheiser, skins, Swarvoski