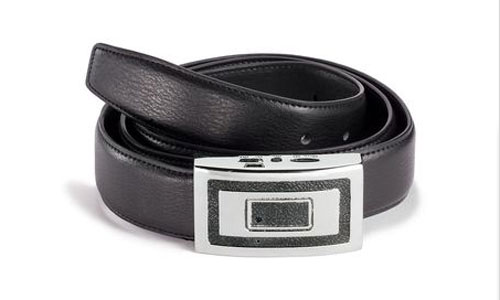 Sometimes in the spy world shooting video is a big deal and any sort of normal video camera is too bulky, just ask Michael Weston. If you need to shoot video covertly and a normal camera is out of the question, Minox has another spy product that might be perfect for you.
The Agent M Digital Belt Camera is just what it sounds like, a normal looking belt that features a camera integrated into the buckle. Spies with too much girth need not apply; the belt is only 110cm long. The belt camera is capable of recording video in 3GP format at a resolution of 176 x 144 pixels and 15 fps.
Storage of video is to microSD cards of up to 2GB capacity. Video can be recorded continuously until the card is full. Controls for the camera are located under the buckle for easy access. Power comes form a rechargeable Li-ion unit that draws juice from the AC outlet. The price for the belt camera is about $300.
digital camera, Minox, Spy Gadgets