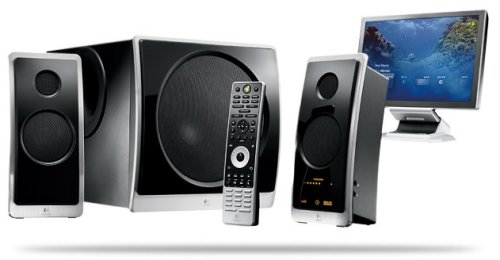 So now that there are becoming more and more high quality movies, games and music available to download from the intertubes onto your computer, the next thing a person finds themselves needing (aside from getting that content over to their living room) is a higher quality display and sound system to take advantage of all this advanced media technology. This year at CES, Logitech is coming through with the sound portion of this equation by launching the Logitech Z Cinema surround sound system.
This new speaker system consists of just two satellite speakers (no rears) and a subwoofer along with what Logitech calls "SRS TruSurround HD" to put your desk chair in the middle of the surround sound action. The speakers have a 180W hybrid Class D + Class AB tri-amp, two-way satellite speakers and an 8″ subwoofer along with 24-bit audio via a USB connection. If for some reason you are unable to play your digital audio through the PC that the speakers are connected to, you can also just connect the player to an input jack to play directly through the speakers. Also, in the event that you don't already have a media center remote control with your system, Logitech is throwing one is as well.
Logitech says the Z Cinema system will be available this month, retailing for $299.99.
Logitech, Speakers, surround sound, Z Cinema