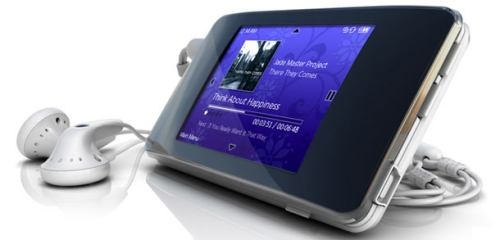 iRiver has a new version of the Clix player available in Korea which will be also coming to the US in the coming months.
The new iRiver U20, which looks like it will end up as the 'clix2′ similarly to how the iRiver U10 became the 'clix' in the US, is slightly faster with more frames per second and is slightly thinner by about a 10th of an inch. The new media player appears very similar to the original version, although it has a much needed increase in capacity. The flash based player has increased its storage to a 4GB and 8GB version coming to the US in March and April, respectively, which is a nice increase from the former 2GB maximum.
The clix2 has the same 2.2″ viewing screen and about the same overall dimensions, sporting the D-Click interface and supporting Macromedia Flash UI, MP3, WMA, OGG audio files, WMV9, MP4 video, FM radio, text viewing, jpeg photo viewing and SRS WOW HD. There will even be a clix docking station available to transfer files and charge the device. Watch for the clix2 coming next month, with Korean pricing on the 4GB version currently at around $211 USD.