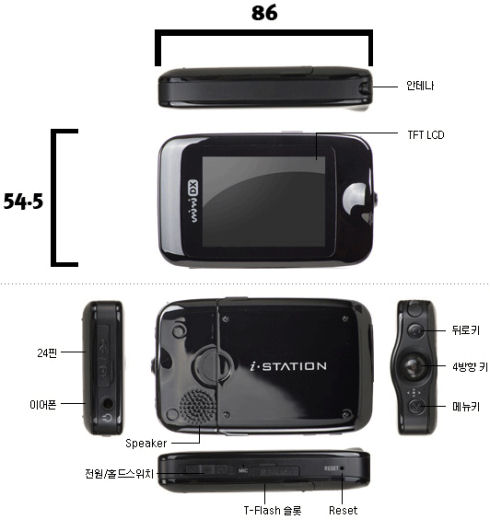 The i-Station Mini DX is a cool little gadget that plays digital audio and video, as well as supports viewing still pictures. It can also pick up FM radio and DMB television in Korea, which is probably part of the reason why this gadget isn't available in the US.
THe Mini DX weighs only 80 grams and measures about 86x54x16mm. It has a 2.4 inch TFT LCD display and comes with internal memory of 1GB, 2GB and a 4GB version in the works with an SD slot to add some more.
The player also supports MP3 encoding which is a nice feature for any device that receives external audio such as a mic in or FM stereo. This allows the user to record incoming audio and converts it directly to MP3 files, which in this case can be listened to later or transferred to a PC via the USB 2.0 interface. Connecting and transferring data will require a Windows PC, and can recharge the Lithium battery at the same time.
This version of the Mini DX is a nice upgrade from the previous version. The look alone has been improved, but also newly available in this version is the FM tuner, USB connection and an external SD card slot. This player is certainly not the smallest audio and video player available but is pretty small for having the DMB reception. I still think I like the Archos player better; it may be a little more than the upper price of about $267 for the Mini DX, but it is available in the US.
Source [iStation-Korea]