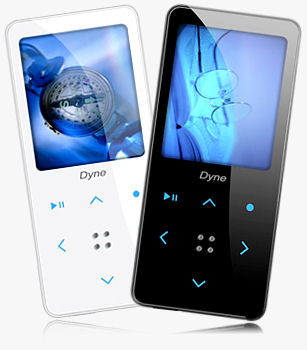 Dyne has recently released two new digital audio/video products for the holiday season, one of those being the Tuny 11.
The Tuny 11 is a very slim (7.9mm) gadget that supports playback of music, video and images with a nice color screen and touch pad controls.
The Tuny 11 supports MP3, WAV and WMA audio files that can be organized and viewed in a familiar file structure. Multiple types of video are supported with different codecs, and the Tuny 11 can also pick up FM radio. The device also has a built in microphone to allow up to 34 hours of recorded audio on 512MB of storage space.
The Tuny 11 from Dyne comes in 3 different capacities of 512MB (DA530), 1GB (DA540) and 2GB (DA550). All three models sport a 1.66″ 65k Color TFT LCD screen and offer 8 hours of audio and 3 hours of video playback on a full charge of the built-in rechargeable battery.
This player weighs a mere 34 grams and has dimensions of only 80 x 36 x 7.9 mm making it almost as slim as the iPod Nano. Data transfer occurs through a USB 2.0 port, which also charges the Tuny 11.
This player looks very competitive in size and capacity to other popular and similar players, but there is no information yet on availability or price, which can always be a large deciding factor when settling on an MP3 player. The fact that it plays audio and video as well as an FM receiver and voice recorder gives it a pretty nice feature set. We'll just have to wait and see on the full functionality and price.
Source [Dyne Telecom]