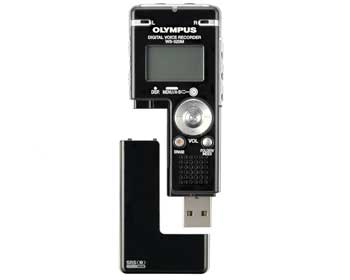 Voice recorders had a time when I thought they were pretty cool because they had those tiny little cassette tapes. I remember going to the doctor's office (for routine visits, of course) and seeing many little tapes lying around with different files where the doctors would dictate on them and file them away.
Well, voice records have come a long way, and dictation is not recorded onto little tapes anymore. If you are in need of a good voice recorder for dictation or anything else, Olympus has a sweet one. The Olympus WS-320M is a digital voice recorder with a few extra features. Aside from being able to record up to 277 hours, it can also be used as a music player supporting MP3′s and WMA files, and will work as a storage drive with up to 1 gig total available space.
The microphone on the Olympus voice recorder is built in, and the one AAA battery will power it for up to 15 hours. The WS-320M recorder also has on-device editing features, so you can edit and move files around without having to hook it up to a PC. Of course when recordings are complete they can be transferred to a PC and archived however necessary.
WS-320M [Olympus]
Olympus, Voice Recorders, WS-320M