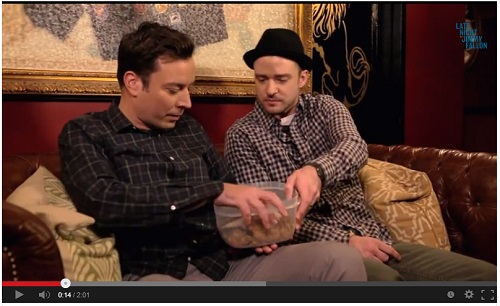 When hashtags are used the right way, they are a great tool for quickly finding information on Twitter and Facebook. Jimmy and Justin show you exactly how stupid people look when they use hashtags other than a means to get information out to your followers. Even though it is a personal favorite in this video, I would never look up "#thatshowwedo".
http://www.youtube.com/watch?v=57dzaMaouXA

Here's proof that Chatroulette can be much more than just random penises and weirdos. This piano player has some pretty good improv skills.
He's pretty talented. It's interesting to see how people are using Chatroulette. One of the many things that Chatroulette is evolving into is obviously a place where a dude can do some improv comedy. This is one of the cooler Chatroulette videos we've seen. The girls love this guy.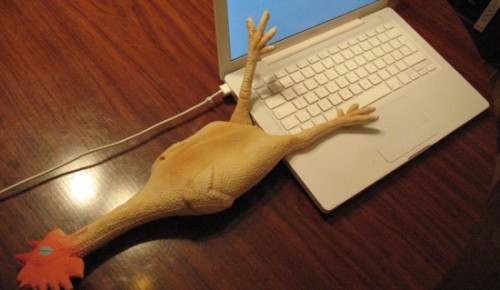 If you're one of those people who find the mere sight of a rubber chicken hilarious, you'll want to check out this rubber chicken drive. I've never understood rubber chicken comedy myself, but hey if I saw some guy getting beat with one, I might feel different.
You guessed it. Some guy took a USB flash drive and lovingly rammed it up this chicken's henhouse. And so a DIY USB Rubber Chicken Flash Drive was born. And the thing is huge, lending to the comedy aspect. Why not park yourself in some cafe and connect this thing to your computer?

I thought this was mildly funny. And true. These people hate the iPhone. Though I'm sure some of you will want to arm yourself with this handy accessory. Enjoy.

The Jedi Gym will help you live out your Star Wars fantasies and shed pounds. In this video you'll meet Master Flynn(No relation I swear) and watch as he uses the force to motivate out of shape nerds dressed like Lando, Leia, Stormtroopers etc. One of the things we learn here is that there are no 300 pound Stormtroopers. Another is that Lando has really let himself go. When Vader drops by, things heat up.