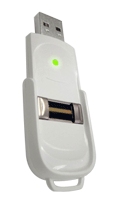 bioMETRX has a few products that are secured through a finger activated technology that only allows the owner to access the data it contains. The smartSTICK is one of these devices which happens to be portable USB drive.
It holds data and works like any other thumb drive, but in this case your thumb can actually be used to give you access to the drive. By simply sliding your finger over the sensor you can set and gain access to the drive contents.
The drive can save up to 10 users and comes in storage capacities as much as 1GB. It also comes with a number of software applications to aid in storage, including storing medical records, school work, personal PC settings, email addresses, IM buddy lists and other productivity applications.
Product Page [bioMETRX]