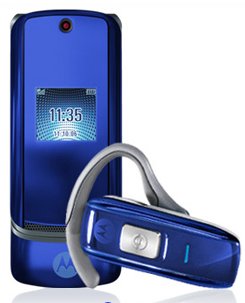 No, this isn't the RAZR, it's the KRZR – the MOTOKRZR mobile phone from Motorola. This is the sleekest of the Motorola clam shell type phones, yet. It is definitely targeting those looking for the latest in style and design at only 16m thick and 3.6 ounces.
The Motorola KRZR has a 2MP camera with 8x zoom as well as video capture and playback right on the phone. You can also use the KRZR phone to play your MP3′s and listen to through your Bluetooth headset, and store extra pictures, songs and video on a removable MicroSD card that you can use in the phone.
The phone has Quad Band functionality for world use, EDGE for high speed web and Screen 3 technology to be able to get the latest in news and entertainment.
Of course the MOTOKRZR also comes with all of the familiar features …