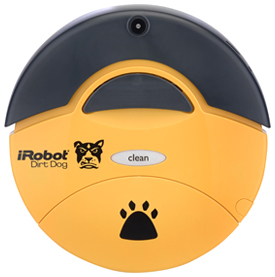 iRobot released a new model to its line vacuuming robots. The iRobot Dirt Dog can be commanded to clean your garage by sweeping under workbenches, cars and other hard-to-reach places. This friendly Dog picks up all the nasty debris such as: nuts, bolts, dirt, and any other fragments from your shop floor.
Dirt Dog Features
The Dirt Dog sports high-speed, counter-rotating brushes to keep your workspace clean. The specially designed brushes sweep up dirt and debris that clings to rough surfaces. Cleanup is easy as the Dirt Dog features an easy-to-empty oversized Bagless Debris Bin which means there are no bags to worry about.
The Dirt Dog is powered by a 14.4 Volt Rechargeable Ni-MH Battery which can be fully charged in seven hours.
The Dirt Dog uses the iRobot AWARE Robot Intelligence System, Stair Avoidance System. Stair Avoidance System to keep your faithful …