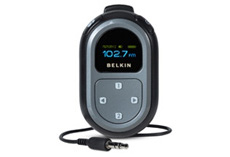 Belkin has released its new universal FM Transmitter, the TuneCast 3. With the TuneCast 3 you can enjoy your music and movies through any FM stereo receiver.
Listen to any of your gadgets with a 3.5mm headphone jack such as: MP3 players, portable DVD players, PSPs, CD players, and laptop computers.
The TuneCast 3 is perfect for long car rides, especially when there are kids in tow. Families with multiple MP3 and audio devices will find it a perfect solution to keep everyone entertained – just plug your portable DVD player into the TuneCast 3 and the whole car can listen to the movie. Once everyone has fallen asleep, connect your MP3 player to the TuneCast 3 to listen to your music and enjoy a moment of solitude.
Other features include:
Transmits on FM channels 88.1MHz 107.9MHz with 2 memory presets.
Cable management and status …