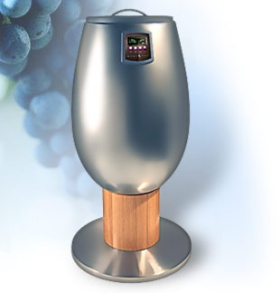 The WinePod is a state-of-the-art device for small lot artisan winemaking which transmits data on the fermentation process to your PC. The WinePod integrates fermentation, pressing, and aging in one elegant unit to produce 4 to 5 cases of wine per batch.
The WinePod collects data on fermentation and temperature and transmits it wirelessly to your PC. This is accomplished using the SensorStick, an integrated Brix and temperature monitoring system. The wireless USB controller collects and transmits data to your PC up to 100 meters away.
The WinePod Dashboard software displays data received from the SensorStick and manages access to your records. The Dashboard displays instructions, various prompts generated by the software, and maintains your notebook during the winemaking process. The Dashboard also connects you to other WinePod users who have made their Dashboards available to the public.
The software also allows you to …