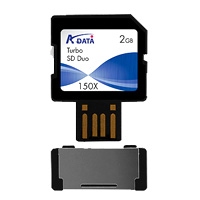 A-DATA Technology makes some pretty cool stuff, and this Turbo SD Duo flash memory card is one of them.
The SD card works like any other SD card, and comes in capacities of 512 MB, 1 GB and 2 GB, and it complies with the SD 1.1 standard.
What makes this SD card cooler than the others is that it is two-faced, or two-interfaced I should say. This is a dual interface SD card that also connects to a USB port while complying with USB 2.0 standards, too.
An inconvenience I have always found with SD cards is that you need a reader, and sure there are many different "78 in 1″ card readers out there but in this case you don't need any card reader with you when you want to get data off of you card, just a USB port.
Card …