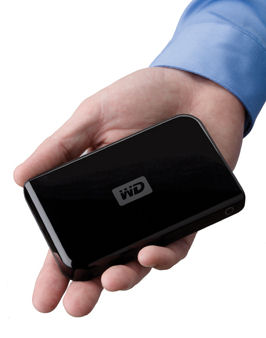 Western Digital's Passport portable hard drive now encloses a 250GB 2.5″ drive while keeping the same small, portable 5 inch length and $199 price tag.
This pocket-size portable drive connects via USB 2.0 and can easily go with you in your computer bag or in your shirt pocket storing loads of multimedia and information. The smooth black finish on the rounded enclosure makes the device easy on the eyes as well.
The 250GB Passport also comes with some data synchronization features along with help searching its content. When you're away from your home PC, you can transfer and modify files through other computers or your notebook and they can be automatically synchronized when you connect it back up to your main computer again. There is also some Google-based software that helps with indexing and finding content in the large space.
Product via …