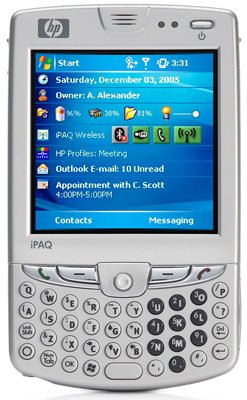 On October 31st Cingular will be offering wireless customers a new mobile device from HP called the iPAQ hw6920.
The iPAQ hw6920 Mobile Messenger utilizes not only Cingular's GSM/GPRS/EDGE wireless network but also has the communication capabilities of Wi-Fi, GPS, infrared transfers and Bluetooth.
The hw6920 runs on Microsoft Windows Mobile 5.0 with features such as Internet Explorer, Outlook and Windows Media Player, and the hw6925 model has a 1.3-megapixel HP Photosmart camera that can take still pictures and videos.
"HP is making it simple for customers to stay connected and work effectively when on the move," said Alain Debost, director of handheld business unit NA for HP. "By combining the iPAQ hw6920 series wireless email, voice and fast data access with Cingular's expansive network, we are allowing customers to tap into the information and rich content they want, …