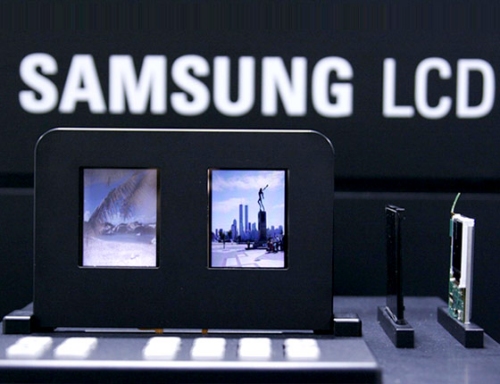 Samsung's newly developed double-sided LCD can produce independent images simultaneously on the front and back of the same mobile LCD display. Current double-sided LCDs are limited to showing only a reverse image of the same video data.
The technology will "accelerate the trend toward slimmer mobile products" by replacing two display panels with one, thus reducing overall thickness of mobile products by at least 1mm. The new double-sided LCD is 2.6mm thick and 2.22″ wide, with QVGA (240 x 320 pixel) resolution.
The breakthrough is made possible by use of Samsung's new double-gate, thin-film transistor (TFT) architecture. TFT gates control the necessary voltage at the pixel level. Samsung's new double-sided LCD uses two gates which allows the front screen to display different images than the opposing screen on the back.
In addition, the new mobile display requires only one backlight – while competitive double-screen LCDs …