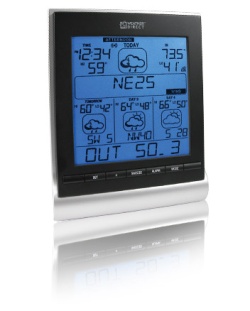 Everything in technology is getting more advanced and convergent it seems like. We even now have Internet-powered weather stations, as unveiled by La Crosse Technology this week at CES. The company's Weather Direct system will consist of a product line with prices ranging from around $50 to $130.
The La Crosse Weather Direct platform uses a high speed Internet connection "to deliver customizable multi-day forecasts and current weather information for up to five cities of the more than 600 available city choices." You can get this information in the form of on-screen displays, weather alerts and voice greetings. A Weather Direct station must be connected through Ethernet to work properly.
You can get more information on the La Crosse Weather Direct after the jump.