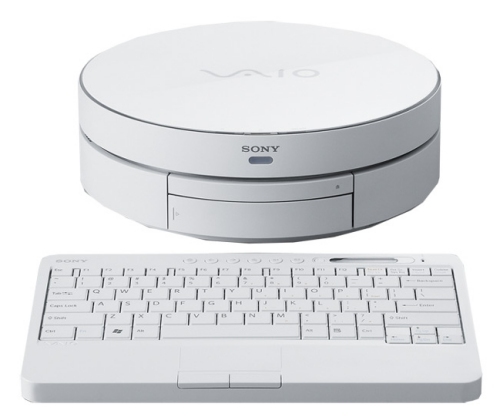 Sporting a spherical form factor measuring 10.63″ in diameter and 3.58″ high, the Sony VAIO TP1 Living Room PC is a bold new approach to home PC design. Promoted as a "Living Room PC", the TP1 was made to blend with your home decor and allow you to surf the web and watch live and pre-recorded TV shows from the comfort of your sofa.
The TP1 comes equipped with a matching wireless keyboard and remote control. The lightweight keyboard was designed to fit on your lap and has a built-in touchpad with hot buttons that launch your frequently used applications.
Frequently accessed features such as the optical drive, USB ports and multi-card reader are located on the front of the PC, hidden behind a curved slide-away panel, while constantly-connected terminals are hidden from sight on the back of the unit.
Specifications
The TP1 features Windows Vista …