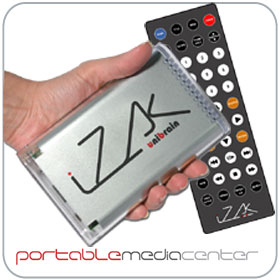 Are you looking for a way to play that extensive media collection laying dormant on your PC? The iZak may just be the device you have been looking for.
The iZak is a simple to operate portable multimedia player for music, pictures, and video. The device will connect to any PC or Mac via USB-2 allowing you to copy your favorite music, movies, pictures, or data files. Once your data has been transferred to iZak, you can connect it to any TV to watch movies, view photos, or listen to your digital music.
The iZak supports any standard display device with an external input. This includes TVs, Video Monitors, Plasmas, video Projectors, and GA monitors. You can watch your favorite films in HDTV quality Video and Dolby Digital or DTS quality Audio.
The iZak is a creation of Unibrain, a global leader in the development of FireWire …