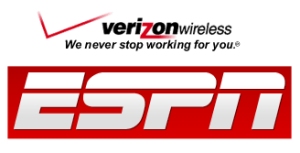 If you want ESPN Mobile, you better have Verizon Wireless. In a recent announcement by the Sports Network, Verizon Wireless becomes the only mobile destination for Mobile ESPN.
With the new multi-year licensing agreement, Verizon Wireless customers who sign up for a V-CAST subscription will receive exclusive access to ESPN content including:
Mobile ESPN – Real-time sports news, scores and information; personalization for favorite teams; scoring alerts and video.
Select ESPN Insider content and ESPN fantasy team management on Verizon Wireless' V CAST services.
ESPN On Demand mobile video – V-CAST customers get video clips including highlights, analysis, news and content from ESPN-branded shows including SportsCenter, Cold Pizza, Rome is Burning, Outside the Lines, Pardon the Interruption and Around the Horn.
The ESPN mobile service will be included in the standard V CAST subscription at no additional charge.
Mobile ESPN was originally launched back in November, 2005 …