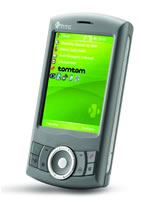 One of the 4 new devices recently released from HTC is the P3300 PDA Phone and personal mobile navigator.
One of the coolest things about this mobile gadget has got to be the built-in stand-alone GPS navigation system run by the new TomTom Navigator 6. This makes the P3300 a great device for traveling in unknown territories where you need to get your exact current location and directions to wherever you are going, instantly. The large 2.8″ LCD screen doesn't hurt, either.
The HTC P3300 runs on Microsoft Mobile 5.0 PDA Phone and has wireless connections with the GSM/GPRS, BlueTooth 2.0 and WiFi. Microsoft's Direct Push technology makes it a nice business phone getting instant emails and meeting information sent to you while on the go.
This model also has an FM Radio tuner which is a little uncommon for PDA Phones, but …