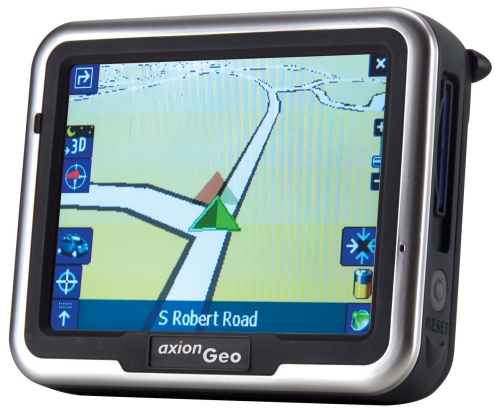 This is the Axion Geo-632, the first personal navigation unit from the California-based manufacturer and distributor of consumer electronics. The Geo-632 is the first device in a new family of navigation products from Axion.
Measuring 3.56″ x 2.95″ x 0.95″, the Geo-632 has a 3.5 touch panel TFT LCD screen that allows you to view road data in 2D, 3D or pan viewing modes. The device gives you logical visual and auditory clues to help you easily navigate each turn in your journey.
Comprehensive map data is pre-loaded, including a searchable points-of-interest database with over a million listings such as restaurants, hotels, gas stations, banks and other high interest destinations.
As with most GPS devices, the Geo-632 will automatically re-route your trip if you hit a detour or miss a crucial turn. You can route travel by …