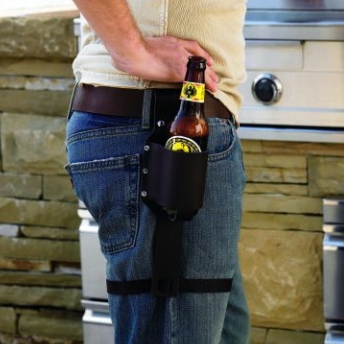 While doing projects around the house, grilling outside and even at social events I'll often find myself asking where I put my beer, but my problem ends with this beer holster.
Made of the same type of rugged leather of tool belts, pliers and gun holsters, this will snap onto your belt and has a strap to go around your leg to keep the holster upright at all times and is the perfect size for a 12 ounce can or bottle. Imagine the convenience of never losing track of your beer while having both hands free to keep things going on the grill in your backyard.
Maybe this wouldn't be appropriate for all social events, but it would be a hit at most of them that I attend. Combine this beer holster with your bottle opener sandals you're all set.
Red Envelope has these beer holsters …