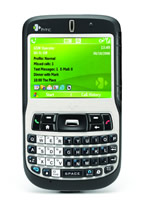 This is one of 4 devices that have been release by HTC recently. This one is called the HTC S620.
The S620 has the full qwerty keyboard for fast emailing and IMing. It comes with the Windows Mobile 5.0 and has a big 2.4 inch display that can be switched to landscape mode.
It is another device with Quad-Band access featuring the EDGE technology and has built in WiFi and BlueTooth 2.0. This device is definitely up to speed with all the built in wireless access technology, unlike many similar devices which always seem to have all but one.
It has something HTC calls the HTC JOGGR navigation bar. This is the first device to feature the JOGGR, which is a small touch sensitive bar that is intended to allow one-handed access to navigate applications, which seems to often be difficult to do with any …