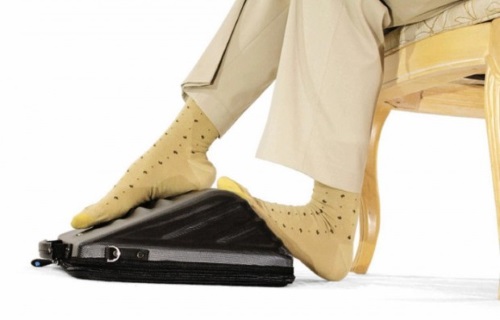 We have all had those long flights with many annoyances; loud kids, middle seat, the person behind you bumping into you repeatedly, or the guy in front putting his seat all the way back. Here is something that may make your flight a little better. Introducing Leggage. This is a computer bag and foot rest/massager all in one.
Yes, you read that right. This bag can hold a laptop, your mobile device and still have room for other things. Once you get settled, pull out your laptop, turn Leggage soft side down on the floor and you have a nice place to rest your feet.
Leggage claims 9 different massage positions, they even have a nice little video that shows them all. But the questions we have are; do you really want your computer bag on the floor of an airplane where 1000′s of dirty shoes have been? And, do we really want people to take their shoes off during flights? Some people do, and we instantly know it.
But, if you are a frequent flyer and suffer from being in a cramped space for hours at a time. This might be your thing! For $79.99 add it to your Christmas list.
Via Technabob
Baggage, Computer Bag, Foot Massage