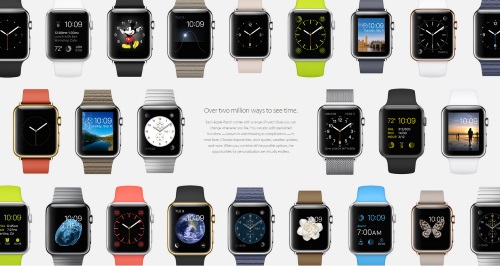 Apple announced on Tuesday the release of the much anticipated Apple Watch and along with it came just about every feature speculated in the months coming up to is arrival. The new wearable technology comes in three different styles, the standard Watch, the Watch Sport targeting the fitness minded and the Watch Edition with a little more elegant and sophisticated look.
The features include, as you might expect with a digital interface, many face options including stopwatches, stock quotes, weather updates, photos, drawings, the digital time or simulated watch hands to name a few. It will also automatically keep the time adjusted correctly, even when you move through time zones or into daylight savings time.
The Apple Watch integrates with your iPhone and will alert you of incoming messages through distinct sounds, vibrations and something Apple calls a "tap" on your wrist. Users can view and respond to messages, or pick up the message on your iPhone and continue a response from there. It even has a built-in speaker and microphone to take phone calls or dictate messages right to your wrist. Incoming calls can be cancelled simply by covering the phone with your hand.
Incidentally, the Apple Watch does not work completely independently. When released, it will require an associated iPhone 5 or above to utilize most of the functionality.
We don't have all the features listed here, but others worthy of mention in our book is extensive fitness app that tracks your movement, exercise activity and the frequency of how many times you get up from your seat in a day. There is also a sketch pad to draw and send small drawings, the ability to "tap" someone else on the wrist and it can detect your heartbeat and send it to another. There is a "walkie talkie" app where you can send short voice messages back and forth and it integrates with the new Apple Pay.
Apple is expecting to officially release the Apple Watch in early 2015 with pricing starting near $350.
Apple, Apple Watch, smart devices, Smartwatch, Wearable Technology, Wearables