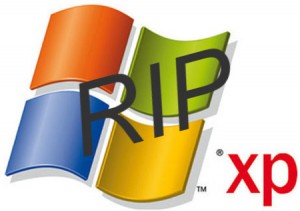 It's doubtful that any avid readers of the 'brick are still sporting a Windows XP machine for their online perusing, however if you are (and our stats tell us that 15% of you Windows users visiting here are) you may want to pay attention.
After a few pushes of the date, Microsoft's end of life for Windows XP is coming near and it appears they are sticking with it this time. After April 8, Microsoft will no longer be officially supporting the operating system. This doesn't mean that your XP machine will suddenly quit working, but it does mean that in about 30 days there will no longer be technical support or more importantly, security updates for this operating system.
After some time this will likely leave an XP user that accesses the internet with some vulnerabilities to hacking and technical issues as other software continues to evolve. After all, believe it or not the OS is 13 years old. Windows 7 or 8 (assuming you're sticking with Microsoft) maybe something to look into this month. Check out Microsoft's XP countdown and you can see the end of life dates for other Microsoft OS's at the Windows lifecycle fact sheet.
Microsoft, Windows, Windows XP