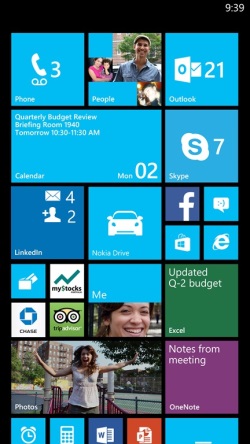 Microsoft announced on Monday the third update to its Windows Phone 8 mobile platform featuring updates including support for a larger Start screen at a higher resolution. Microsoft also included support for a faster processor, a driving mode, accessibility features and a few more.
The update creates the ability for Windows Phone 8 to support larger 5 and 6 inch mobile devices which some are calling "phablets". Microsoft did not use the word phablet or refer to any larger devices being released however the main image on the release post from Microsoft had "phablet" in the file name. This would handle 1080p HD resolution and allows for as many as six Live Tiles across the screen. It wouldn't be surprising to see Nokia come out with a larger device with the updated OS from Microsoft after Microsoft's recent purchase of Nokia's handset division.
An update for a faster processor will support the Qualcomm Snapdragon 800 quad-core processor, and a new Driving Mode will limit distractions and even send automatic replies to tell those trying to contact you that you are driving. The Phone 8 update also includes a set of accessibility features, improved hotspot WiFi sharing, increased ringtone configuration, a rotation lock (something Android and iOS have had for a long time), storage management improvements, the ability to manually close an app quickly, and better Bluetooth.
The update will be rolling out to Windows Phone 8 over the next several months according to Microsoft, and if you are supporting apps for Windows Phone 8 you can get the Windows Phone preview for developers starting today.
Microsoft, Mobile Phones, phablet, phablets, Windows Phone, Windows Phone 8