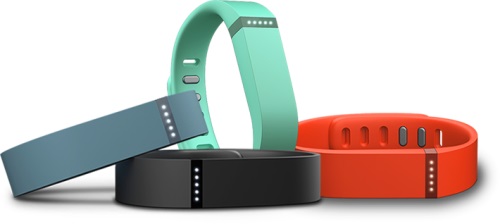 Fitbit, makers of the fitness tracking Flex wristband, announced Thursday that it will be releasing the Fitbit Force this fall. The Force is an updated version of the Flex with some additional features, most notably an OLED display right on the device.
The added display is a big advancement in the device. Not only will this allow the user to see their distance progress and calories burned as you might expect, but it can also see the names of incoming callers. The Fitbit Force will pair with your iPhone via Bluetooth and is the first of the wrist-worn devices to take advantage of the new Apple iOS 7 notification center. This way users on a run can track the calls that come in without having to pull out their phone and gives Fitbit a jump on the competition from Nike's Fuelband and Jawbone's Up. There is no integration for this with Android yet, but touching the Force to an Android phone (NFC equipped) will automatically launch the Fitbit application.
The Fitbit Force will track steps taken, distance, calories and sleeping habits as its predecessor did. It will also track stairs climbed through a built-in altimeter and total active minutes throughout a week. The Bluetooth 4.0 also supports pairing with your computer to avoid the need for the USB connection to sync up your data.
Fitbit already offers an small array of fitness tracking products including the Zip, and One that attach to your clothing, the integrated Aria smart scale and the Flex wristband. Fitbit is offering the Force for $129.95.
exercise, fitbit, fitbit Force, fitness, force, wristband