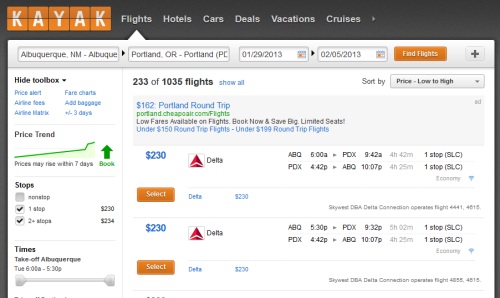 Booking a flight can be a stressful experience. Ticket prices can fluctuate dramatically and you never know what time is the best time to buy. To help alleviate ticket-buying stress KAYAK has a launched a new price forecasting tool that will predict whether the prices in your search are likely rise or fall over the next week.
In addition to the fare history chart we've provided for some time, KAYAK flight search results now include a forecast of whether the prices in your search are likely to rise or fall within the next 7 days. The feature also provides the statistical confidence level behind the forecast.

Giorgos Zacharia, KAYAK's Chief Scientist, led development of KAYAK's price forecasts and comments, "our algorithm incorporates data from multiple faring and availability providers across the over one billion annual queries performed on KAYAK sites and mobile apps. As we continue to collect data and test the algorithm, the forecast accuracy will continue to improve."
If you are looking to corner the market on ticket prices head over to KAYAK and try your luck at timing the best deal. The service is currently available on KAYAK.com in the US and KAYAK.co.uk in Great Britain. Unfortunately the current version of the service DOES NOT work on predicting stock prices. I tried that.
[KAYAK]
KAYAK, travel