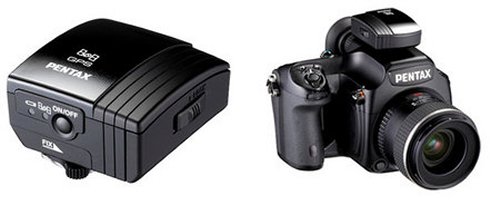 The O-GPS1 is a GPS unit that allows geotagging of images. It attaches to your camera and allows the camera to add latitude, longitude, altitude, UTC capture time and direction as image metadata. Then you can use the data to place images in mapping software like Google Earth or just use it to organize your files.
If you own the K-5 and K-r models, you can use the 'Astrotracer' feature which predicts the movement of celestial objects and uses the sensor shift mechanism to track the movement to give astrophotographs with single points, rather than star-trails. Stargazers will love this feature.

It will ship this month for $250.
Add-on, DSLR cameras, GPS, Pentax