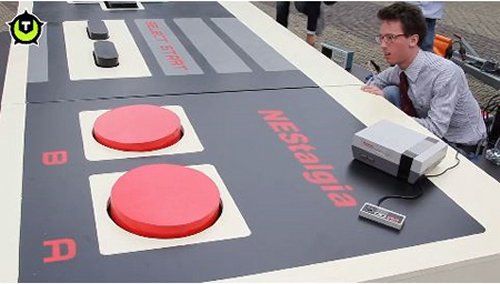 Humans love to make things bigger and better. Sometimes we make things too big for our own good. Like this giant NES controller that actually works. The only problem is that you need several people to reach all of the buttons, so any game you play will be over quickly.
This one comes from a student at Dutch University, who is responsible for the creation of this monstrous controller. It is now the world's biggest NES controller, having outdone all others. This Nintendo controller is 30 times larger than the original remote. Players stand on the buttons to activate them. It's 12 x 5 feet.

Yeah, but can you make a giant Wiimote that swings around and plays Mario, before crashing into a Huge TV? That I want to see.
controller, DIY, nes, world's largest