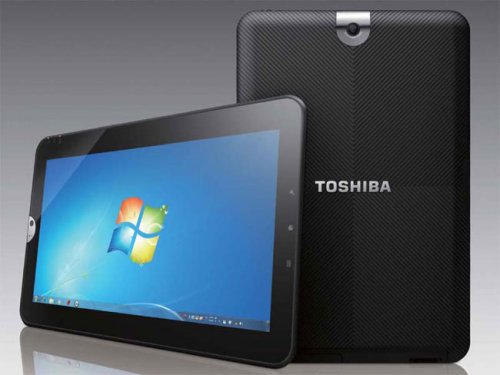 Toshiba has announced a new tablet in Japan, for the enterprise market, the Toshiba WT310/C. The device comes with Windows 7 professional and features an Intel Atom Z670 1.5GHz Oak Trail processor. It also has an 11.6 inch touchscreen display with a resolution of 1366 x 768 pixels, 2GB of RAM and a 64GB Solid State Drive (SSD), along with two cameras.
There's a two megapixel camera in back and a three megapixel camera in front. Other features include Bluetooth 3.0, 802.11 b/g/n WiFi, an SDXC card slot and USB 2.0 plus HDMI.

It will be available in Japan in June for an unknown price.
Oak Trail, tablet, Toshiba, windows 7, WT310/C