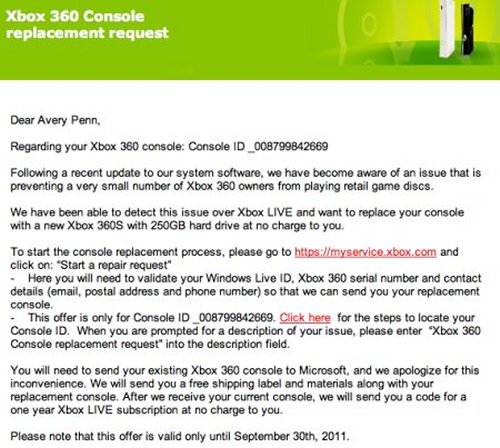 Looks like Sony isn't the only gaming giant having problems. Microsoft's new disc format will allow for an extra 1GB of storage space for new games and hopefully stop piracy, but there is a problem. It looks like some consoles contain drives that can't read the new XGD3 discs. Opps.
The email pictured above has been confirmed as real by the Xbox Support Twitter account, but now it's responding to inquiries by saying that the replacements are in response to a previous update and not the upcoming one that has been in beta.

It's a bit confusing, but it looks like those affected owners can expect to get their Xbox 360s replaced with a new 250GB Xbox 360S model plus a free year of XBL.
discs, Microsoft, XBL, xbox 360