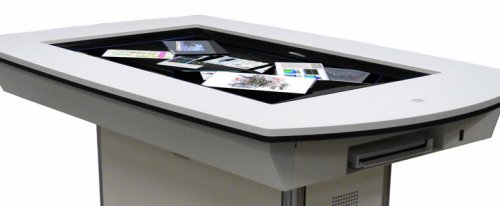 I think that we can all agree that the Microsoft Surface concept is pretty awesome, but when can you and I get one? Pioneer's engineers are working on it with this ultimate 52" Multitouch interactive discussion table, the WWS-DT101.
The WWS-DT101 is based on a Full HD 52" TV with multitouch technology and will let you manipulate documents with the touch of a finger and share data with anyone either wirelessly thanks to TransferJet technology or to any network connected devices like PCs, iPhones and iPads.

The WWS-DT101 also features a PFU Scan Snap S1100 Scanner so you can scan any documents. It is based on Windows 7 64Bit and packs in an Intel Core i7 CPU with 6GB of RAM. The WWS-DT101 will be available in Japan this summer. Price is unknown.
52″, Pioneer, surface, table, WWS-DT101