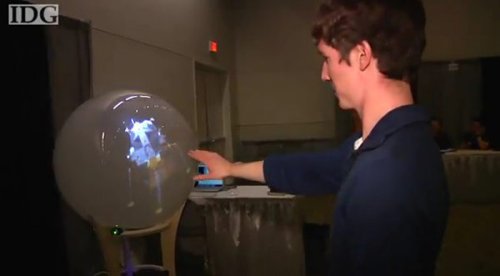 Flatscreen displays are so last decade. Taking a hint from the shape of our own planet perhaps, some students from Queens University have created a snowglobe display. They hacked a 3D HD projector, two Kinect sensors, and a hemispherical mirror inside of an acrylic sphere, to create "Project Snowglobe".
The result is an almost holographic display with a 360-degree view of a digital subject. The object isn't really projected in 3D, but follows the movements of a single person, rotating and shifting position with the viewer. You can still gesture to control various aspects of the object as well.

We think it's pretty awesome and hope to see more in the future.
360, display, Hacked, Kinect, Snowglobe