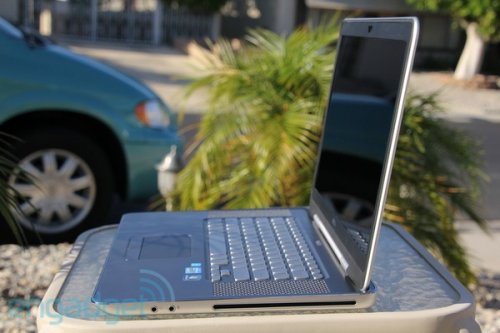 The Dell XPS 15z with it's sweet aluminum and magnesium alloy is on sale in the United States starting at $999. In all, there are five different configs available online. The base model packs in a 2.3GHz Core i5-2410M processor, 6GB of DDR3 RAM, NVIDIA GeForce GT525M graphics with 1GB of dedicated video memory, a 500GB 7200RPM hard drive and a slot-loading DVD burner, with plenty of connectivity including dual-band 802.11a/g/n and a pair of USB 3.0 ports. Pretty nice.
For $1,500 you get a 2.7GHz Core i7 rig with 8GB of RAM, 2GB of VRAM and 750GB of storage, plus a 1080p display. For another $100 you can have the 300-nit, 1920 x 1080 LCD screen in any config.

This is bound to be a popular machine even if it isn't a Macbook killer.
Dell, laptop, XPS 15z