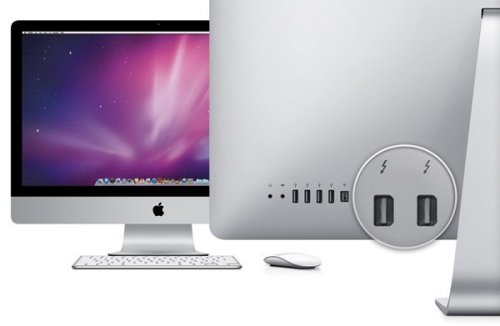 Good news iMac fans. Apple is refreshing the iMac lineup today, with prices starting at $1,199 for the 21.5-inch (1,920 x 1,080 pixel IPS panel) model with new 2.5GHz quad-core Intel Core i5 processor and 512MB of AMD Radeon HD 6750M graphics.
After that prices go up to $1,999 for a 27-inch (2,560 x 1,440 IPS) model with 3.1GHz quad-core Intel Core i5 CPU and 1GB of AMD Radeon HD 6970M graphics, or optional 3.4GHz quad-core Core i7 processor and 2GB of HD 6970M graphics.

You will also get a Thunderbolt jack, one on the 21.5-inch model and two on the 27-inch model, as well as a FaceTime HD camera.
Apple, iMac, Intel, Refresh