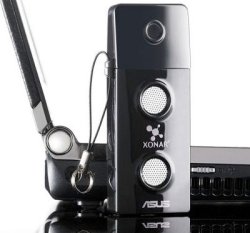 With all of the great things that a notebook can do, why can't they pump out decent sound? Even gaming laptops have this problem. Well, there are solutions available. Like plugging in a USB sound card for instance. One that will give you more hi fidelity abilities and also EAX 5.0 gaming abilities.
We are talking about the Asus XONAR U3. It's the size of a flash drive and only weighs 25 grams. The device offers the ability to drive 150ohm impedance headphones and ASUS' unofficial EAX 5 software based acceleration which will make games sound better. The Asus XONAR U3 also supports Dolby Digital.

No word on pricing or release date.
ASUS, external, Sound Card, Xonar U3