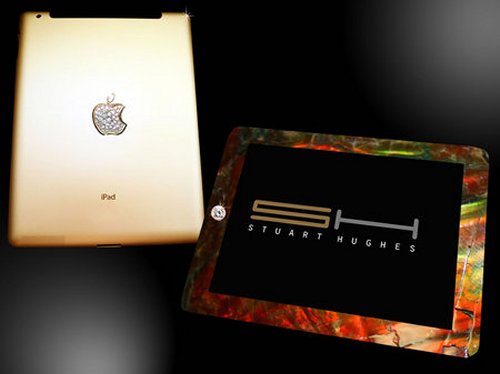 Behold, the iPad2 Gold History edition. Asin, your money is history. It was as usual, designed and crafted by Stuart Hughes in Liverpool UK. It is encrusted with 16.5 cts of 'I'F' flawless diamonds, 53 individually set sparkling gems, a solid 24ct Apple logo and the rear section produced again in 24ct gold.
It weighs 2,000 grams and the front frame of this iPad is made from one of the oldest rocks in the world, the Ammolite, sourced from Canada and dating over 75 million years old. That's not all, sections of a 65 million year old T-Rex dinosaur's thigh bone has been splintered and then shaved into the Ammolite and finished off with a single cut 8.5ct flawless diamond inlaid in platinum and surrounded by 12 outer flawless diamonds.

If you have more money than sense, it costs £5 million ($8 million). There will be only two.
$8 million, expensive, iPad, Stuart Hughes