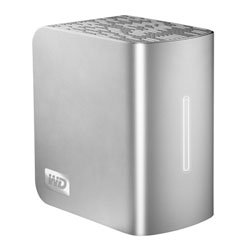 Western Digital has introduced the My Book Studio Edition II. This dual-drive storage system features a huge storage capacity of 6 terabytes (TB) and has been designed for those of us who use our computers to create, store, edit and archive large HD video and photo files. You have plenty of room here.
It has 4 high-speed interfaces (FireWire 800/400, eSATA, USB 2.0) and uses Western Digital's GreenPower Technology to consume less power, which is good for the environment. Other features include automatic and continuous backup software, an easy to open enclosure that allows users to service the drives easily, an external capacity gauge so you know how much space is left and a 5 year limited warranty.

The My Book Studio Edition II will cost you $549.99 and is available now.
6TB, external, Hard Disk Drive, My Book Studio Edition II, Western Digital