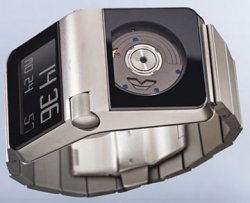 The Ventura SPARC MGS looks nice and futuristic and it uses a micro-generator to power a digital display. Your wrist movements feed an accumulator that provides power to the high-performance microprocessor.
The company claims that throughout an average day the wearer's movements will turn the oscillating mass about 4,000 times. Through a set of connecting gears, these rotations are used to repeatedly tension a spring. Every time the spring is fully tensioned, it releases that force to a built-in micro-generator which generates electricity for the watch. Pretty cool.

The Ventura Sparc GS is priced from $3,000 to $4,000.
Kinectic, powered, Ventura SPARC MGS, watch