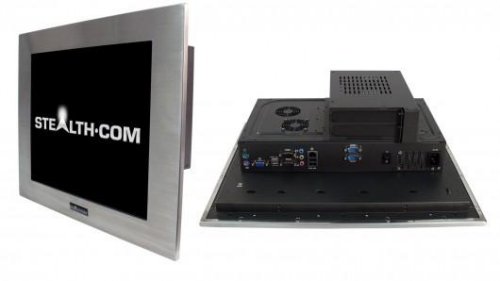 Some of us need a rugged PC, whether it's because you work in harsh conditions or are just hard on your equipment. Stealth Computer has something new to offer those who need a more durable PC. Their latest rugged PC is an all-in-one solution, one that is great for interactive kiosks, outdoor computing, or marine, aviation, security and industrial environments.
The machine's panel is sealed against windblown dust and rain, splashing and hose-directed water and you can choose from three screen sizes. Other features include a touchscreen user interface, dual-core processing, HDD or SSD storage options and a variety of I/O connectivity options.

The stainless steel front bezel is NEMA 4X/IP56 environmentally sealed to protect the insides from moisture, dust and dirt, and it is all good within an operating temperature range of between 0 and 40 degrees C (32 to 104ºF), storage of between -20 and 60 degrees C (-4 to 140ºF). Prices start from $2,995 upwards.
all in one, pc, rugged, Stealth