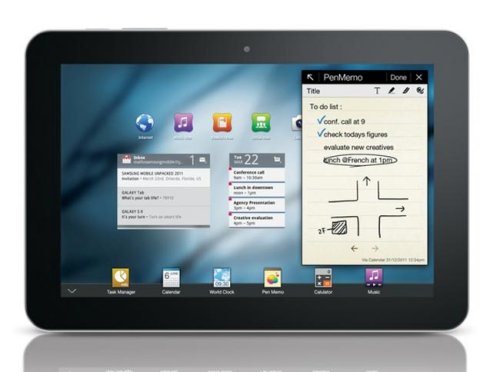 So now the Samsung galaxy Tab 8.9 is official and we have some official press photos and more detailed specs. The Samsung galaxy Tab 8.9 measures just 8.6mm thick, making it an uber thin and sleek tablet, thinner than the new iPad 2 even. It weighs just 470g and comes with Google Android 3.0 Honeycomb and a custom Touchwiz UI from Samsung.
Other features include an 8.9 inch display with a resolution of 1280 x 800, a 1GHz dual core processor and it will play back full HD video in 1080p. There's also a three megapixel camera on the back and a two megapixel camera in front. Two models will be available: one with Wifi and one with WiFi and HSPA+.

There will be two different sizes of the WiFi model, a 16GB model for $469 and a 32GB model for $569. Android fans will eat this one up at those prices. iPad 2 look out! We don't have an exact launch date for the Galaxy Tab 8.9. Some time in the summer.
Galaxy Tab 8.9, photos, Samsung, specifications, tablet