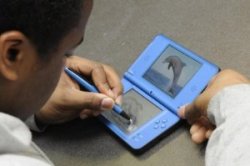 Nintendo of America has announced a partnership with the National Art Education Association (NAEA) where they will introduce the Nintendo DS into classrooms in selected schools across the country. The idea is to give students a fresh, fun way to learn drawing and painting techniques.
Art teachers in elementary, middle and high school classrooms have been given Nintendo DSi XL systems and copies of Art Academy. These teachers will use the game console and the game to make classroom activities more engaging and fun. This should definitely make the classes more fun for kids.

Where was this when we went to school?
art, classroom, learning, Nintendo DS