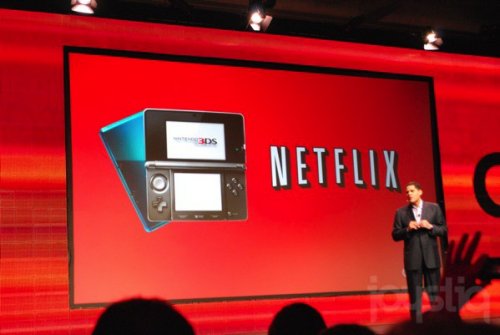 At GDC 2011, Satoru Iwata and Reggie Fils-Aime revealed a ton of info about the 3DS. As far as video content, the news is that the 3DS will get Netflix this summer as well as the ability to pause a video on your handheld and continue watching on your Wii.
We aren't sure but we assume that you can also do the same with an XBox or PS3 as well. Nintendo is partnering with AT&T to provide free WiFi access at 10,000 hotspots starting in late May. It will also use the SpotPass passive connection feature that works even when no game is in the system and when its in sleep mode, to download new content.

But that's not all. A wireless 3D video channel is coming as well, exclusive to the 3DS, that will push Nintendo-selected content like movie trailers, music videos, and comedy shorts to the device. Nintendo is also bringing Game Gear and TurboGrafx 16 titles plus 3D-remastered classic games to the 3DS.
3DS, AT&T, Netflix, Nintendo, wi-fi