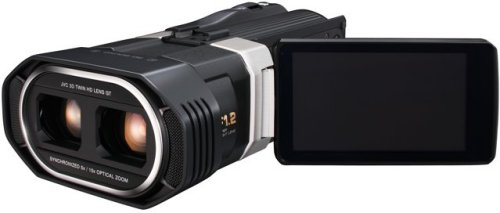 JVC has announced the world's first 3D consumer camera, the GS-TD-1. Now you can shoot 3D content that is viewable on any 3D TV. The GS-TD-1 uses two camera lenses and two imaging sensors to capture 3D images, just like your eyes do. You can shoot content in 3D and in full 1080p HD, side by side (960 x 1080 x 2) for AVCHD 3D recording and 2D AVCHD shooting.
It features 64GB of built-in flash memory, but you can expand that by using the SDXC card slot. Other features include 3D optical 5x zoom, Optical Axis Automatic Stabilization System, and Automatic Parallax Adjustment. The display is glasses-free 3D so you can check your 3D content easily.

Videos can be burnt onto Blu-ray or DVD for 3D playback as well. The JVC GZ-TD1 is available now for $1,699.95.
3D, camcorder, JVC