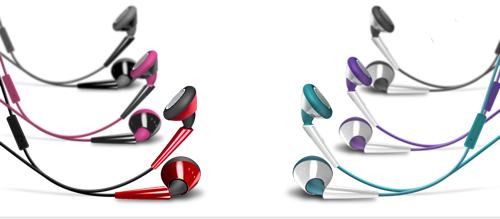 iSkins, the Mac accessory maker, has unveiled a new line of sporty looking earphones called EarTones which have built-in mics specially designed for iOS devices, but they will also work with Mac and Windows computers when you use programs like Skype, iChat or FaceTime.
The microphone will give you call and iPod control on iOS devices and the iPad 2. The earphones have some great features too, like an anti-bacterial coating and a flexible neck to give the earbuds a better fit. Plus they look pretty stylish.

EarTones come in several color combinations, including Black/Black, Black/Red, Black/White, Pink/Black, Blue/White and Purple/White. They are available now for $40.
Apple, earphone, EarTones, iPad 2, iSKin, mic